How I First Got Started Painting and fell in love with it
I first got started painting 20 years ago and I wanted to learn Decorative Painting. I can highly recommend starting in the Decorative Painting field for a few reasons:
It is less intimidating than other forms of painting. (at least it was for me)
You can get started painting on a relatively low budget
What you learn will go far when you decide to go into other forms of painting. (this I am finding out in my Impressionistic Painting courses I am involved with now)
You learn how to paint on all sorts of surfaces other than just canvas.
You can create all kinds of gifts for family and friends that they will love.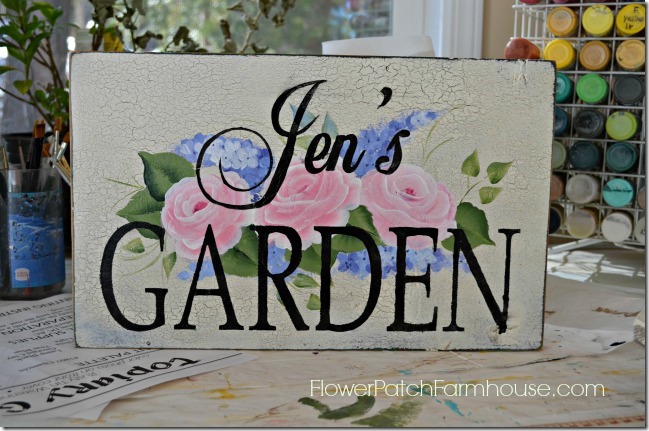 Does anyone remember The Carol Duvall show on HGTV in the 80's/90's?
I loved that show and she had different guests doing all sorts of crafts and art. One day she had Priscilla Hauser on the program and she demonstrated her method of painting lovely flowers. I loved it and wanted to learn more!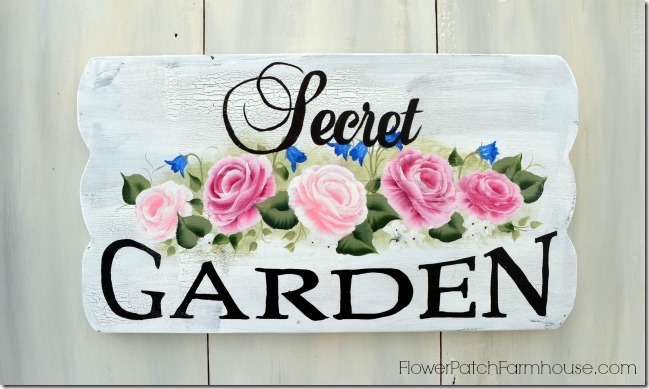 Circumstances prevented me from pursuing it at the time but in 1997 things changed. I learned the craft store nearby was going out of business and was selling off its inventory.
I made sure to attend the sale and ended up with a few of Donna Dewberry painting books for $1 a book. (they did not have any Priscilla Hauser books or I would've purchased some of hers too)
The budget was tight but even I could afford $1 a book.
I bought some of the paint colors and started to practice, practice, practice and that is how I started painting.
Wal-Mart, at that time, carried a full range of Folk Art Craft and DecoArt Americana paint colors, One Stroke brushes and mediums which was very convenient. Sadly Wal-Mart has severely reduced their craft section and no longer carry the range of colors or brushes so I rely on JoAnn's, Hobby Lobby, or Michaels for my craft paints. They all have great sales.
What I liked about the books was Donna used a limited assortment of colors so it was not a huge investment in the paints nor the brushes.
Would you like to see one of my first pieces?
It is so old I did not have a digital camera so this is a scan of traditional film photo of one of my signs.
Yep, pretty rough looking and my lettering stinks but I was learning and now I wish I still had this sign.
I actually sold this on eBay way back when.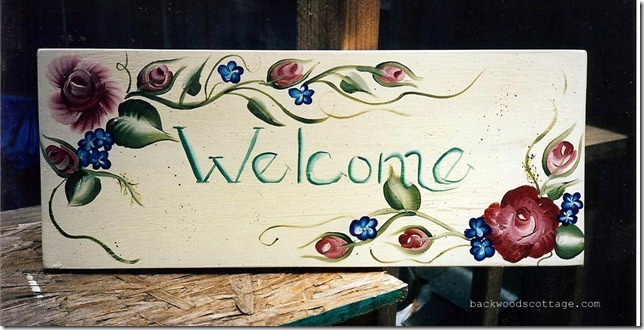 I sold all of my practice pieces on eBay. Back then (1998) eBay was new and PayPal actually paying people $20 to join them since they were just getting off the ground as well. Imagine that $20 to join PayPal!

I had an endless supply of reclaimed boards and shingles from my dad's roofing business so my costs were low and selling my signs paid for my paints, brushes and any new books I wanted to add to my collection.

Though my roses only vaguely resembled what they should've looked like I kept at it and slowly they improved.
I also learned to hide my mistakes or what I thought really looked bad.

The added purple flowers (wisteria) hid my major faux pas on the roses.
The stenciled "welcome" was a major improvement on my attempt at hand lettering back then.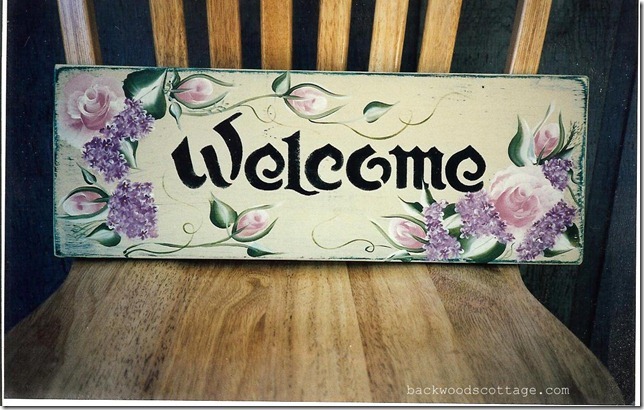 In 2002 I took a certification class to teach the One Stroke method of painting but I also continued to venture out into other methods and melded them all together. I found some Priscilla Hauser books along with some from Roz Stallcup and learned even more from them, doing this helped me to create my own style and methods.
The short answer to how I started painting is from books, videos along with trial and error.
Now I offer my own painting tutorials, some for free and some are paid workshops. I want to share the love of painting and all the benefits it gives. I have lots of painting tutorials on my YouTube channel here so go on over and subscribe.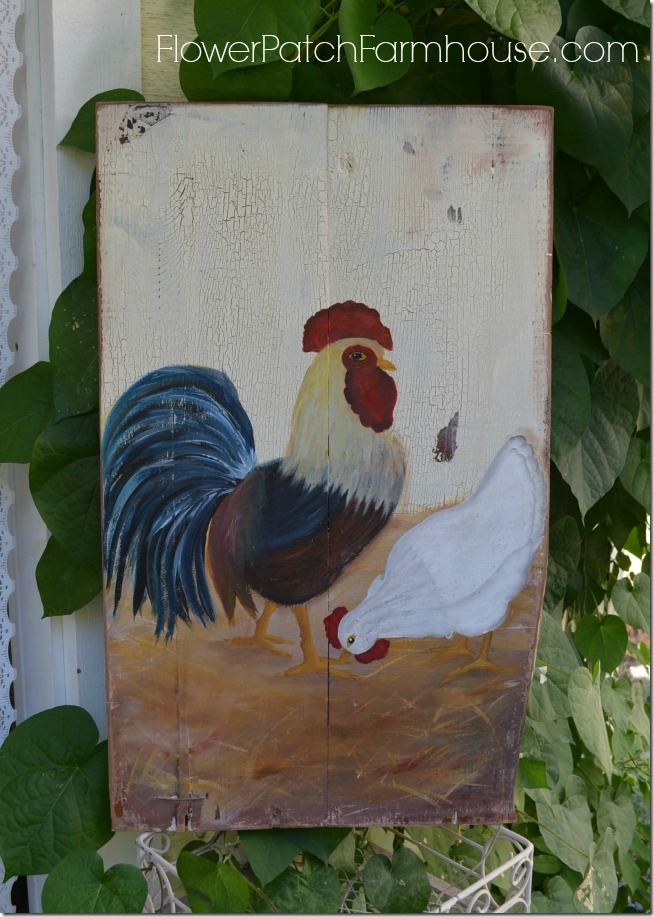 I can paint all sorts of things but my favorite is roses. For some reason they just make me happy!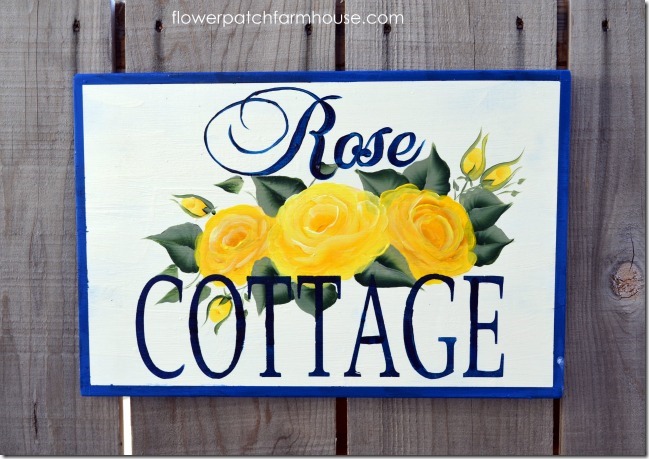 I am adding more painting lessons and videos all the time.
Many of you have followed me over from Flower Patch and for that I thank you. Creating an all Art website has been a goal of mine for awhile and I appreciate all that have been so supportive of that.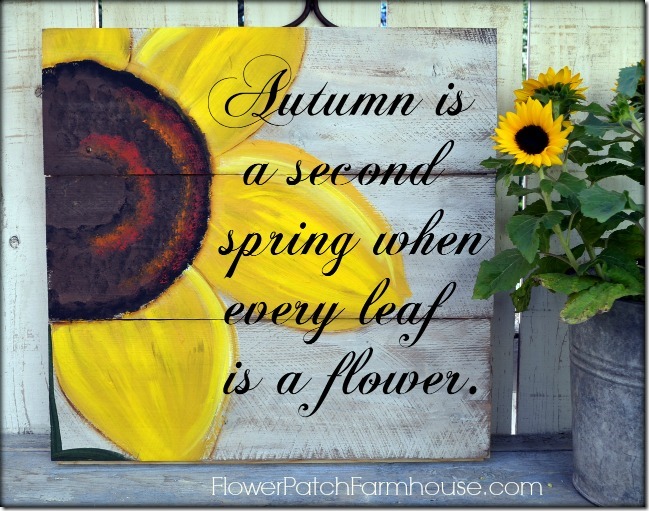 I wish you all Happy Painting!


Helpful Posts if you are Getting Started
My Go To Supplies
Basic Brush Care