How to Paint Pansies on Glass.  Glass painting is so easy and fun. Paint a pansy or two and turn recycled jars into works of art.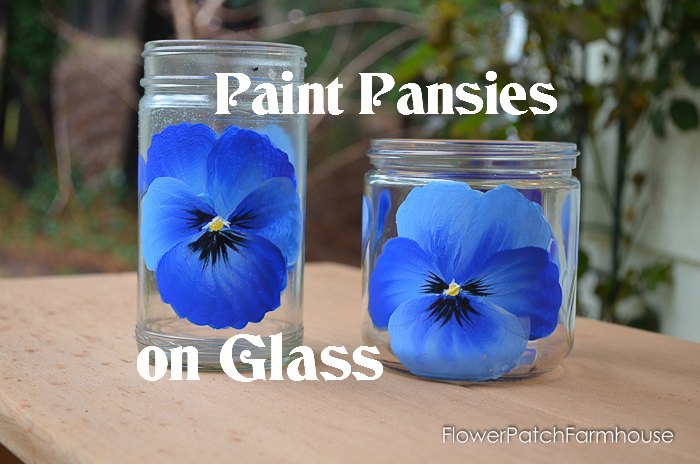 Have you tried painting a pansy on glass yet?  It is one of the easier flowers for me.  There are a few flowers that still elude me but I will master them eventually and I hope to share.
I felt confident enough with the pansies to make you a video on how to paint them.  I know you can do this!
(this post contains affiliate links, please see disclosure page for more info)
If you want a step by step on how to paint a pansy CLICK HERE.  That is my regular tutorial on painting Pansies on a painted surface but the steps are similar.  The main difference is you don't necessarily need to do two coats like you do with painting on glass.
This video is long winded and I do more than one pansy so you get to see me do several.  You need to let the paint dry between coats so doing several pieces at once is key for me.  I use a fan to dry them quicker.  I turn it on and have it blow on the pieces to dry them while I work on the other pieces.  Unlike a blow dryer I don't have to hold the fan.
Okay, enough yapping from me…here is your Paint a Pansy on Glass video
Supplies:
FolkArt Enamels
Wicker White
Cobalt
Licorice
Thicket
Fresh Foliage
FolkArt MultiSurface
Look at me Blue
Daffodil Yellow
Brushes
Glass painting set
Detail set I speak about in video
The paints should also be available in your local hobby/craft stores like Hobby Lobby, Michaels and JoAnn's.
Now grab your brushes, paint and a recycled jar (mine are salad dressing and pickle jars) and let's paint some Pansies!
To Bake Painted glassware
Let the paint dry for 24 hours then place in a cold oven, you can set them on the rack or on a cookie sheet.  Set the temperature to 350 degrees , let the oven rise to temperature then bake for 30 minutes. Once the glass items have baked for 30 minutes, shut off the oven, don't open the door and let cool completely, then remove from oven.
If you enjoyed this please PIN and share
Happy Painting!